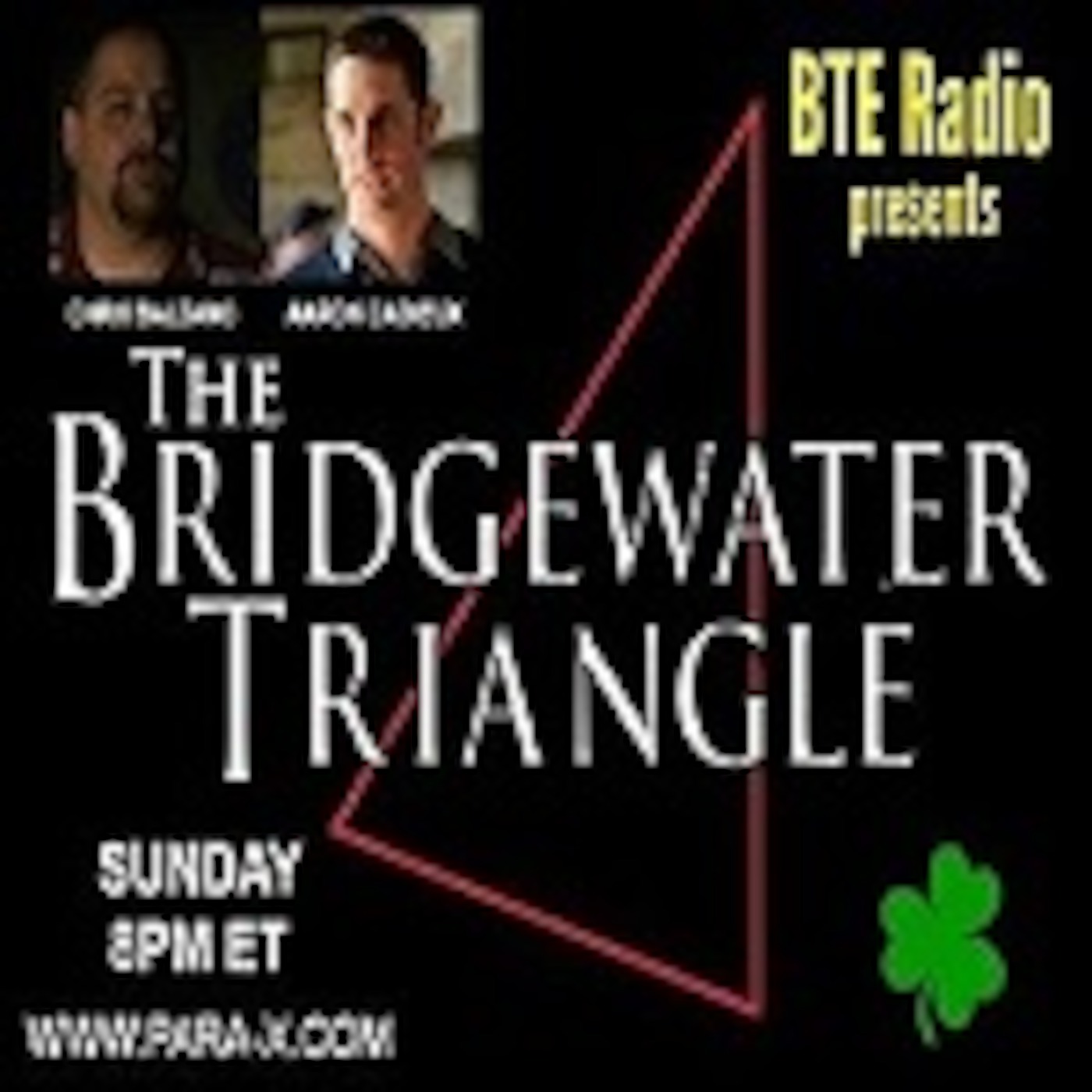 ***Due to technical issues during the start of the show, the first 30 minutes of the show did not record, however the entire interview with Aaron Cadieux and Christopher Balzano is recorded for your listening enjoyment. We apologize for any inconvenience.***
Eric, Lon and Sean return to one of the most mysterious places in the world, the Bridge Water Triangle. We welcome Documentary Film Maker and co-director Aaron Cadieux and Paranormal Investigator and Author Christopher Balzano to the show to discuss the Bridgewater Trinagle Documentary, what went into filming the documentary and some of the history and mystery behind the area known as the Bridgewater Triangle.
The Bridgewater Triangle sits within the Southeastern portion of Massachusetts, and includes a number of locations known for unexplained occurrences; the most prominent of which include the legendary Hockomock Swamp and the infamous Freetown-Fall River State Forest. The triangle's traditional boarders are revealed by connecting the dots between the town of Abington to the North, the town of Freetown to the Southeast, and the town of Rehoboth to the Southwest.
The area hosts an unusually high volume of reports involving strange happenings, baffling mysteries and sinister deeds. From ghostly hauntings and cryptic animal sightings, to UFO encounters and evidence of satanic ritual sacrifice, the Bridgewater Triangle serves as one of the world's most diverse hotspots for paranormal activity.
The first-ever feature-length documentary on the subject, The Bridgewater Triangle explores the history of this fascinating region. The film features a number of local residents providing first-hand accounts of unexplained occurrences. In addition, an all-star assembly of paranormal researchers, folklorists and authors provide expert analysis regarding the many mysteries of the triangle.
Aaron Cadieux, Co-Director
Aaron Cadieux is an award-winning documentary filmmaker from Dartmouth, Massachusetts. In 2003, he produced and directed a 30-minute documentary titled, Inside The Bridgewater Triangle. The experience inspired him to someday produce and direct a feature-length documentary on the same subject. In 2010, he teamed up with filmmaker Manny Famolare to begin production on The Bridgewater Triangle. Cadieux also owns and operates Bristol County Media LLC (and its subdivision Big Operations Productions) a company specializing in video production services. As the Co-Director of The Bridgewater Triangle, Aaron combines his extensive experience in documentary film making and video production with his love for Halloween and things that go bump in the night.
Chris Balzano Paranormal researcher and author Chris Balzano has been investigating paranormal activity in the New England region for a number of years. Recently, Balzano released two books detailing accounts of paranormal activity within the Bridgewater Triangle. 2007's Dark Woods: Cults, Crime, and the Paranormal in the Freetown State Forest, and 2008's Ghosts of the Bridgewater Triangle, are two informative sources for readers interested in learning more about the Bridgewater Triangle.
Visit the official website of the Bridgewater Triangle at www.http://thebridgewatertriangledocumentary.com/
Share
|
Download(

Loading

)